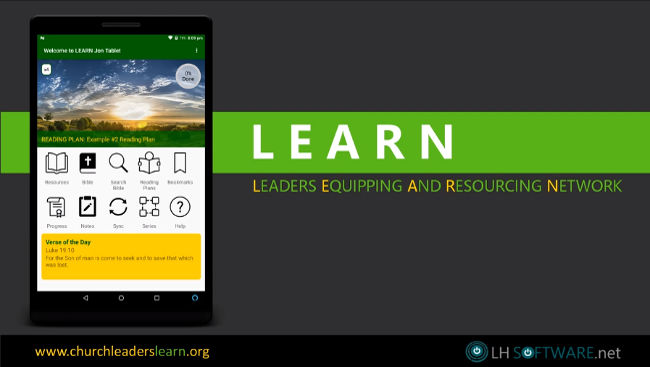 Leaders Equipping And Resourcing Network
LEARN is a system of assisting Christian leaders to proclaim the Gospel of Jesus Christ more effectively.
Through our specialized software tools, our partners can provide a full suite of resources and reading plans to aid their workers to study. Read more >>
Android & Web Apps
The LEARN app for Android acts as a complete offline study tool for Christian leaders. Incorporating multiple versions of the Bible, encrypted copyrighted resources, reading plans and tracking, the app does not require Internet access to use. Read more >>

Latest News
LEARN Zimbabwe Pilot Launches June 2019
LEARN Global will host two conferences in Harare (24th-25th June 2019) and Mutare (27th-28th June 2019) to launch the LEARN Zimbabwe project. Partnering with SIM (Serving In Mission), LEARN Global will offer 36 church leaders in Zimbabwe the opportunity of becoming ambassadors for the project and help lead the way for the future. Each leader will be presented with a computer tablet with the official LEARN App installed, a tablet case and a solar charger.
The LEARN App is designed to assist church leaders in studying the Word of God. Included are over thirty study books specifically chosen for the leaders in Zimbabwe. Please read more about the app in our Software/Apps page.
Please pray that the conferences will be well attended and successful. This pilot is the first step to LEARN Global's goal of assisting church leader's to become more effective Gospel communicators.
Thu, 16 May 2019 13:20:46 GMT